Vinyl Record Shopping in Edinburgh
Backtracks record shop LP Albums,

Record collectors looking for vinyl records love to browse our record racks and boxes for quality LP/33's vinyl music, CDs or Cassette Tapes from 40s, 50's, 60s 70s 80s 90s etc ie Rock, Indie, Soul, Jazz, Blues, Classical, Ska, Reggae, Punk, Disco,  Musicals, Film Soundtracks etc on albums ie Beatles, Black Sabbath, Bob Dylan, David Bowie, ELO, Muse, Eagles, Happy Mondays, Stranglers, Queen, Kate & Anna McGarrigle, Prince, Rolling Stones, Frank Zappa, Yes etc
Record collectors hunting deleted music or exchart classics can buy nostalgic music memories, listen to our record player or turntable music systems instore near city centre, here in Tollcross Edinburgh.
Edinburgh Gramophone shop covers 78s

Backtracks also offers 78s by Classical, Jazz, Scottish and popular artists Glen Miller, Robert Wilson, various orchestras and some 50s Rock n Roll on 10" and 12" bakelite records. Have a look at some Edinburgh gramophone record covers and please ask when you visit Backtracks as we have a good selection not on full display.
Emails will be answered within 24 hours if able to assist but priority is given to customers instore.
Therefore please support independent 2nd hand record shops like Backtracks Music Edinburgh and keep music in local shops not online.
7" Singles 12" Singles
If you love single records you will find a unique amazing selection at Backtracks. Picture discs, picture covers, obscure punk classics, heavy rock, love songs and ballads, reggae, 80s Ska or The Beat 12" original 70s/80s  disco selection ie Blondie Sunday Girl (French) or Red Red Wine -UB40, 12" Kraftwerk - Tour de France or Proclaimers
DJs come in with a list or browse our Singles books, boxes or racks and pick up a copy of AC/DC,  Madness 7" selection, The Jam, Chic, Pink Floyd - Another brick in the wall,  Depeche Mode or novelty classics like George Burns wish I was 18 again.
If you wish to buy a Birthday or Anniversary gift, Backtracks offer Music Games gift voucher by secure payment to spend here in Edinburgh. This will enable your gift to be appreciated and used to buy a greater selection of vinyl, music cd, DVD, games choice or Why not frame a favourite 7in single hit ie Happy Birthday etc Simply choose amount £7, £15, £25 call Tommy to confirm gift token and pay direct.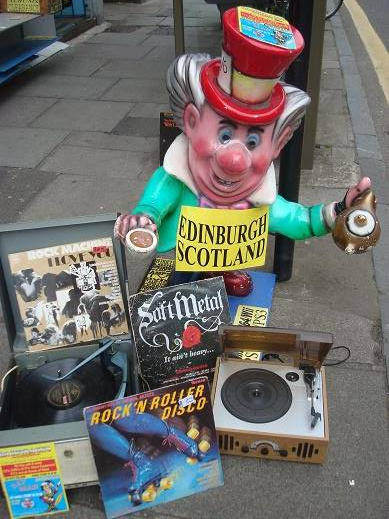 Let us search for you!
Looking for a particular album or single? Want to find a special person a unique gift?  Let us search for you, just fill in the details of what you are looking for below and we'll get back to you ASAP.