Backtracks Music & Games Testimonials
---
In over 32 years in Tollcross, many customers have thanked Backtracks music for knowledgeable advice offered and finding elusive records, rare cds, games or mad requests which I have personally hunted for. Written reviews and testimonials are collated below online from Scotland, England, France, USA etc or in our Edinburgh shop praising our quality products, and services on offer at
Thank you if you have taken the trouble to write and have appreciated our efforts via feedback page.
---
April 2022 Backtracks Muusic Edinburgh ☆☆☆☆☆ Great shop & service  Would Recommend Thomas Lopez Anguiano Spain
April 2022 Backtracks music☆☆☆☆☆ A great place to buy movies and games for good prices. Zeljko Kovac Ukraine
5 March 2022 Backtracks Edinburgh ☆☆☆☆☆ What an absolutely amazing place. We popped in for a look today whilst on holiday and I wish I had spent the rest of the day there taking it all in Shared on our FB retro Games group with over 500 likes in an hour. Thank you very much for the look around. We will be back Andy B
June 2019 Backtracks music shop Facebook review: Such a great shop with an amazing owner. Tommy is kind, caring and helped us a lot suggesting heaps of fascinating stuff to do while in Edinburgh.
The shop itself is a gem: packed with super cool cds and vinyl DEFO WORTH THE VISIT!
Thanks again by the two Italian girls - Francesca Disegna, JulieDraws
---
August 2018 Backtracks Electronics shop Edinburgh -Excellent selection great atmosphere Garreth Thompson
---
August 2018 Backtracks Films shop Edinburgh -Atmospheric great assistance lots to search for, hope you'll stay here for a long time from now - Dion Haverkort The Netherlands
---
August 2018 Backtracks Music shop Edinburgh - Baddass -Missy Rayment USA
---
August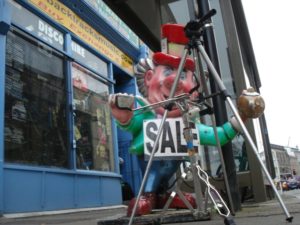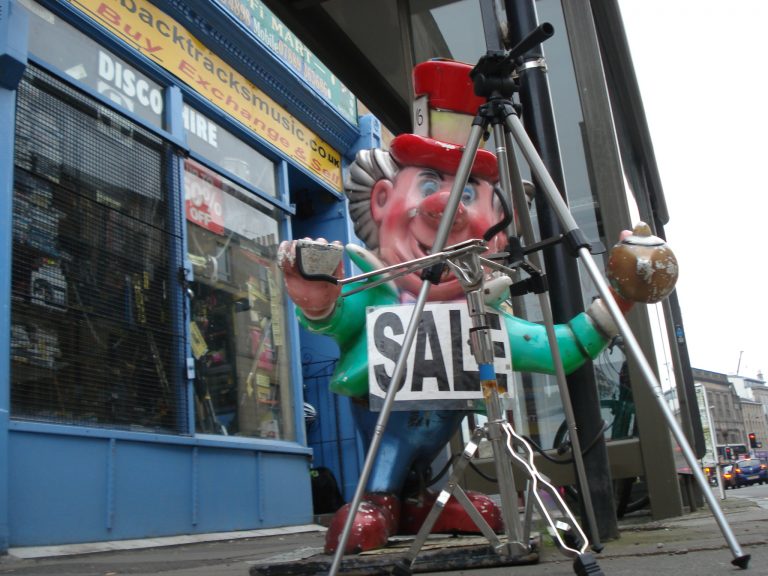 2018 Backtracks Music - Games shop Edinburgh LOVE IT Everythings Amazing!! Marlon Fissell USA
---
July 2018 Backtracks Music  shop Edinburgh - La Mesore  discovade UK - Pedro Larralde Record Store manager Buenos Aires Argentina
---
July 2018 Backtracks Games shop - Edinburgh - Cool store love places like these - Ole Evensson Norway
---
July 2018 Backtracks Games shop Metal Music Fantastic selection of cool stuff - Marion Danletton Norway
---
July 2018 Backtracks Games shop - Lots of cool stuff - Stefan Hanny Edinburgh
---
July 2018 Backtracks Music shop - Games and metal music - Fantastic selection of cool stuff -Marian Danieton Norway
---
May 2018 Backtracks Music & Games Edinburgh -The Grotto of my Dreams -Love it -Dan Jackson - Slateford
---
May 12th Backtracks Games Edinburgh -NES Games - HEAVEN I Love it -Dan Muir Pompey (England)
---
May 14 2018 - Backtracks Record shop -I love the Chaos! Megan Shaefer Edinburgh
May 14 2018 - Backtracks Games shop - This was a fantastic shop - Amazing - Alexander Bruins Edinburgh
---
3 Feb 2018 Backtracks games - Fantastic shop, rare find!!! Retro games A Moriarty York
---
11 Oct 2017 Dual turntable bought 1990 and used every day great condition and lasted . Brilliant value from Backtracks shop.
26 Oct 17 Backtracks Music CDs -This is the best shop in the world. Alec Stenluud Sweden
---
20 July 17 Great shop, will come back 80s Computer games Oliver Berlin Germany
14 July 2017  Retro stuff -Really rare to find shop like that messina Toulouse France
25 July 2017 Backtracks games  Great collection N64 games - Jonny Florida USA
---
Sept 2016 Backtracks Music Shop - Good First Class Service Recommended George Holmes Niddrie Edinburgh
---
March 2016 Backtracks Music & Games Edinburgh - 5star Review "Great shop if your into retro gaming music or just into a one of a kind shop this is your place amazing cheers tommy thumbs up" Ricko Gare Facebook user
March 2016 - Backtracks games - Excellent choice Games -W Smyte Switzerland
---
April 2016 Backtracks Music & Games It's a very special & unique shop! Hannah & Daniel Li - Hong Kong
---
APRIL 2016 Tape for old dictaphone 8 Shops later success (Backtracks Music Tollcross) very good service Miles McPhail
---
Mar 2016 Backtracks Games -Sega Shelf -Great, nice shop Christophe Schell Cologne Germany
JAN 2016 Backtracks Music Tollcross Stylus Brilliant Service T/Y (sic) Vic Thomson Edinburgh
---
Sept 2015 Backtracks Games 5 star A must see place for a retro game maniac like me. A shop where you can find retro game gems and bunch of awesome records. Staff friendly and definitely knows it's business. If there would be more places like this there would be peace on earth Ville Miettinen Finland
---
Sept 15 Backtracks Tollcross -Awesome shop! - Kurt Langer Kiwi Photos
---
August 2015 Backtracks Records: Brill Loved it spent up Top bloke!! Zak Manchester
---
August 2015 Backtracks Retro Games: "Friendly chatty bloke in store Nostalgia never looked so good!" Neil Edinburgh
---
May 2015 Looking round Backtracks Best shop ever Kathy North Carolinas USA
---
May 2015 Great Master system in here. Brilliant shop. James Hirat Bristol
---
April 2015 The best shop ever!! Burja - Andalucia
---
Feb 2015 Backtracks Games Love the Shop! Would love more stores like this nowadays! Asjad Rafiq Edin
---
December 2014 Backtracks Music Shop "The best shop in Edinburgh!
Marcos Climent Chef - Valencia Spain
---
October 2014 Backtracks Games Shop "The best shop in Town! Brilliant"!!! Filippo Italy/Scotland
---
September 2014 I've got a quality cable at the best price Thanks Backtracks Music shop Juan Diego Edinburgh
September 2014 I was really impressed by your shop. So many things in such a small place! Roman Panbertin Photography Hamburg.
---
August 2014 Fantastic shop completely and entirely. Very helpful staff - my sort of place. Tom McFarlane Edinburgh
August 2014 Awesome Cool place, very nice collection, will be back next visit Fredrik Emma Carlshamn Sweden.
---
July 2014 Fantastic Impressive collection of Equipment and nostalgia Paul Chun, Edinburgh
July 2014 Love Your shop (Backtracks Tollcross) might be back Sorayaha and Kat South Africa and France might be back
---
April 2014 The best retro shop in #Edinburgh @BacktracksEdin Check them out for retro game's, records even if you just want a cable for something. Jack Cuthill Edinburgh
April 2014 Backtracks Games Tollcross Awesome All I ever needed - Andrei Carroni St Petersbourg Russia
April 2014 Backtracks Edinburgh Fix Remote control, bought mobile phone charger Very Helpful - Just go in - A Bell Spylaw Rd Edin
---
March 2014 Backtracks Music Shop An Incredible Shop Fabulous Shop V Friendly and helpful Mike Diamond Colinton Edinburgh
MARCH 2014 BACKTRACKS An Aladdin's Cave everything you could ever want! Josh Lyall Plymouth England Fabulous Place - Elaine Lyall Juniper Green
---
October 2012 Backtracks Games shop ( Video Games) I've founded (sic) a little diamond!!! Jose Antonio Garciolo Edinburgh
---
July 2012 Hi! I'm David, EXCELLENT VINYL TREATS & SERVICE ABOVE & BEYOND THE CALL OF DUTY. @BacktracksEdin Donny ALLAN Haddington E Lothian SCOTLAND
---
June 2012 Hi! I'm David, I appeared in your store on Tuesday afternoon requesting blank VHS tapes. I just wanted to take the time to say thanks for your help and advice. I'll be sure to pop in again David Caldwell Edinburgh
---
4th April "All the things to keep Edinburgh in good Memory" sic Marcus Bechme Munich Germany
Mar 2012 Backtracks Music: Cool selection of vinyl from many decades! Agneta Lundqueist Helsinki Finland
March 2012 Backtracks Tollcross: Lots of good stuff from my youth! Jukha Nousinina Helsinki Finland
---
January 2012 Backtracks Games shop Edinburgh N64 games. I love this store! Gummi Gulia Iceland
January 2012 Backtracks Games Edinburgh Wonderful service & Great selection Jessica Johnson Wisconsin USA
Nov 2011 Backtracks Music - Good old fashioned service, people before profit Arren James Kingsknowe Edinburgh
Nov 2011 Backtracks second hand shop great video finding service Mary Sandilands Tollcross Edinburgh
---
Oct 11 Backtracks Music shop Tollcross Bought radio cassette recorder -Great service & happy to deal again H.G. Fairbairn Morningside Edinburgh
Sept 2011 I had a problem with a musical instrument which I could not solve and upon contacting Mr. Tommy Robertson (Backtracks Music Shop Edinburgh) I found he could not have been more helpful and certainly knew his stuff! Walter Beattie, M.B.E Lothians Scotland
---
Sept 2011 Backtracks Music shop Tollcross Inspirational and unique DVDs Barry Jackson Sydney Australia Thanks Barry for returning to shop more than a few times on trips back home Tommy Edinburgh
Sept 2011 Backtracks Music Store Tollcross Great hospitality Well done Deidre Smart Australia
SEPT 2011 Good news your urgent order now at Backtracks Music Shop Tollcross Tommy - Fantastic Thanks So much Tommy Great work - cheers Nick Pope Music Director UK
Sept 2011 Backtracks Tollcross Power Adaptor - First rate service Graeme Cruikshank Warrender Edinburgh Sept '11 Backtracks Records Tollcross Good to see someone still selling quality HIFI Tony McQue Edinburgh
---
August 2011 - Backtracks Music shop Edinburgh - Amps etc, Wish there was a shop like this at home Robbie Bristol England
August 2011 - Backtracks Music shop Edinburgh - Un plaisir par les amateurs de son, Tres sympatique, tres acceuillant. - Vincent Neron Quebec Canada
Aug' 11 Backtracks shop Tollcross Great collection fun to look around records - vinyl John Cass Edinburgh
Aug '11 Backtracks Music shop Edinburgh - Great music selection, good service for cassettes/records Sam Herbert Alberta Canada
Aug' 11 Backtracks second hand shop - Awesome collection of things great prices good service for records to electronics Jesse Carson Alberta Canada
August 2011 Backtracks Games shop Tollcross A lot of good stuff old games etc Marc Rollen Barcelona Spain August 2011 Backtracks music shop - Amazing, quirky, very good service better than HMV - Reel to reel tapes Moira Cameron Leith Edinburgh
---
June portable Tape recorder v happy with products and service Backtracks Tollcross shop recommended Fiona Renton Fountainbridge Edinburgh
June Terrific Service finding Music cds at Backtracks Edin recommended Allan Hoy Longniddry East Lothian
June Gerry Rafferty (2 cd Night Owl, Baker Street) Backtracks ordered - Service First rate all the way - Recommended Stewart Keith Peebles
---
March 2011 Wonderful service - Backtracks Music shop Tollcross tracked down cd import I have hunted for years to trace Outstanding Amanda Nicol West Linton Scotland
March 2011 Backtracks Music Edinburgh: Amazing store. The kind of place I've always been searching for Timothy Nierwienski Baltimore USA
March 2011 Thanks for very quick service finding and ordering record player stylus Mr Pinkerton Edinburgh Feb 2011 Backtracks Games Tollcross Thanks for excellent service supplying rare WWF Raw Sega Mega Drive game as I have tried for years (supplied 2 days) will recommend Lewis Cameron Edinburgh
November Backtracks second hand store Edinburgh; Brilliant shop! Quirky and interesting Ruaridh Irwin FIFE November Backtracks Music Store Sveiki tautieciai! Tai nuostabi vieta Ir nuostabus vyrus! Tatjana Lithuania Thank you for keeping our heritage in little details, so we do not turn into America. Great Shop
---
October 2010 I had a dream years ago about a store that sold everything you wanted and this could be it. Probably the cosiest store in Edinburgh definitely recommended if looking for LP records ie Smiths, Ray Charles or audio systems Kalle Hellminsk Sweden
Aug Thank God shops like this (Backtracks Music Tollcross) Exist Great record selection Edinburgh -Alan Reid July 2010 Backtracks second hand shop is a treasure trove in Edinburgh - Jenny Littlejohn Edinburgh
---
JUNE 2010 Light bulbs unable to find anywhere else! Sourced and Very well served at Backtracks Tollcross shop Mrs Mackay Edinburgh
23 June 2010 Laptop charger computer cable Backtracks Tollcross - Fantastic service saved me money Graham Robertson Edinburgh
2010 Backtracks Records Edinburgh is a KILLER STORE for Powerstation records, music tapes etc (found while on UK tour from USA) The SKATERS - Spencer 9clarksr99@yahoo.com)
June 2010 Backtracks Scotland Wow so much stuff. Must visit in Edinburgh. Gordon Dorman partynitedisco Purfleet England
---
May 27 Backtracks Record Shop Edinburgh Scotland is the most inspiring and amazing store I ever saw. Der inspiriendste und beeindruckend Musikladen den ich je gesehen habe !!! Miller Johannes Munich Germany
May 14th Backtracks Music & Games -Fantastic shop, this place is great! Ewen Carr hotmail Edinburgh
---
April 2010 Excellent service from Backtracks Music Tollcross finding and ordering war DVDs John Reece Edin
As a pensioner I was very happy with Backtracks service tuning tv, video and supplying replacement T Small
April 10 Wonderful shop, Backtracks is a must see in Edinburgh Ron O'Donnell Photographer Redford Edin
March '10 Backtracks Music Edinburgh Hi Tommy! Have been meaning to get back to you for ages... The cd to France took 6/7 days to arrive! Thanks again for going out of your way! Duncan FRANCE
March '10 Record Voucher Edinburgh Thank you for your kind note, Tommy. Steve just emailed me also to let me know the fun they had looking in your Backtracks Music store Edinburgh-Kathleen USA.
March 2010 Thanks for very quick service sourcing reel to reel tapes received next day J Berwick England
---
Feb 2010 Website cd order request Thanks for getting back so quick! How much would it be to have it posted to France? Duncan McKenzie Toulouse
Feb '10 Backtracks-Very good service obtained deleted nza Student Prince D Bathgate Edinburgh Jan 2010 Hi Tommy, Thanks for letting me know. I'm delighted to have found (Backtracks Music Edinburgh) (courtesy of Google), because I thought I'd never get hold of these (deleted cds). Best wishes Roy Mackay
---
Nov 30 2009 Backtracks music Edinburgh To jest najlepszy sklep w ktorym zakupisz najlepsza muzyke, tv, computers, I nie tylko.... Dan Paderski Poland
Oct 09 Backtracks music Games shop Edinburgh - I was very surprised at this amazing shop 5 star ***** Jamie Cutkelvin
---
EdinburghSept 09 I bought a record player turntable and can definitely recommend Backtracks music for their most helpful service. Elizabeth Jogee Edinburgh
---
April '09 Thanks for being able to supply tv aerial adaptor - portable television. Backtracks always seem to have music leads etc Barry
---
Feb 2009 Amazing, where else can you get such a broad range of retro games in Edinburgh than in this shop  Nintendo, SNES, Amiga etc I'll be back! Robert Cairns Edinburgh
---
I trekked all over Edinburgh city centre from St Andrews Square, Princes Street, Lothian Road To HMV, Virgin, Woolworth and many other stores and shops and was delighted to eventually find a copy of Braveheart on video and DVD  at Backtracks. Edinburgh. Not one of the other stores  had either formats available Thank you John McIlquham October 2007
---
Thank you for providing a first class service at Backtracks for my TV and digital freeview in setting it up and checking everything was to my satisfaction.- Mrs J Banks Tollcross
---
Glad to see your Backtracks shop is still open having visited it seven years ago from (USA), especially as having lost a rare Black recording bought from you then , We have been unable to trace it until now. Thanks and hope you continue to find some other elusive gems for us next time. J. M Crowther
---
Edinburgh Evening News Backtracksmusic second hand collectors shop review Edinburgh Evening News 10 Nov 2004.
---
October 2007 Backtracks Music shop Edinburgh Great blues cds and service - Brian Findlay
---
July  2007  Doom N64 game and hard to find cds no other shop could supply was ordered and quickly supplied at Backtracks Music & Games shop Tollcross Edinburgh.- B. Ipolitto - service I can  recommend .
---
JUNE 2007 I can  RECOMMEND EXCELLENT SERVICE in various transactions ie vinyl records & CDs etc  sourced by    Backtracks music Edinburgh for me Ms W Davidson Edinburgh
---
JUNE 2007 NORTHERN SOUL CLASSIC SINGLES : Found and supplied at Backtracks a recommended service Mrs Crerar
---
MAY 2007 Backtracks Music shop Edinburgh ABSOLUTELY BRILLIANT SERVICE music Cd sourced been unable to find in years definitely RECOMMENDED  Ian Ferguson Fife
---
April 2007  Backtracks Music Edinburgh - Great. Service - Just to let you know I received desired rare album  first thing this morning -  Appreciate your help and prompt 1 day service Thank You - Pat Goode England  paid by Paypal
---
10/5/07 Backtracks Music Edinburgh - Quick finding Service 10/10 for sourcing rare video film unable to find for years - Nick Taylor Edinburgh  March 2007  Costco Straiton business of the month - Backtracksmusic & Mad Hatman Discos  Edinburgh Details instore
---
****** = Names hidden to preserve identity or at writers request - Thank you for all your positive contributions - T Robertson
Alternatively email {tommy@backtracksmusic.co.uk} or phone 0131-228-4898 / 07889-36-36-86